6 Delicious Menu Ideas with Extraordinary Margins
Dec 01, 2022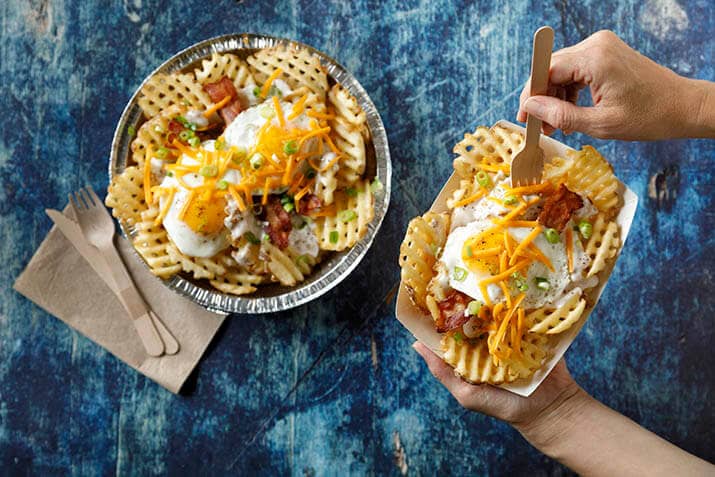 Thanks to ongoing inflation, the cost of prepared foods and ingredients for restaurants will likely keep climbing in 2023. So now it's more important than ever to protect your profitability by menuing items with healthy margins, i.e., any dish with food costs 28% or less of the menu price.
Loaded fries can be very, very profitable for foodservice
Fries are already the most profitable food item on your menu. That's because their perceived value in the minds of customers far exceeds their actual food cost. And given their universal popularity, fries are a smart choice to use as a base for high-margin dishes, one that requires no additional training to prepare. Remember to use clear-coated fries like Simplot Conquest® Delivery+® Fries that resist getting soggy under all those toppings.
To make your loaded fry dishes even more profitable, consider all the ways you can repurpose trim from the prep of other dishes as loaded-fry toppings. Lots of creative possibilities to explore!
Value-added frozen vegetables are great for restaurant profitability, too
We all know frozen vegetables are relatively inexpensive. But innovative products like Simplot RoastWorks® Roasted Vegetables dial up the value in the minds of patrons, helping you command a higher menu price.
Furthermore, frozen vegetables help you reduce food waste from trim and spoilage compared to fresh. You get 100% edible yield versus as little as 36% yield for something like cut corn. And don't forget the reduced labor. With wages on the rise, the simplicity and speed of heat-and-serve prep can save you real money in the kitchen, day in, day out. Read more about the best ways to use frozen vegetables in foodservice here. »
How to promote high-margin items on your menu
Be sure to give your high-margin dishes premium placement on your menu. On digital menus, that means a location near the top of the screen, given that most menus on phones appear in a single, scrolling column. And don't forget to add an attractive picture of the item. On printed menus, use devices like boxes, underlining and stamps to draw attention to the item. Learn more about how to engineer your restaurant menu for profitability here. »
Use limited-time offers (LTOs) to test your new menu concepts
LTOs are a great way to try out your new dishes and see how well they perform before committing them to your regular menu. LTOs also give patrons something new to consider and can help keep traffic coming in the door during economic downturns. Get our e-book on how to make killer LTOs here. »
Here are six examples of menu ideas that will thrill your customers and your accountants, too:
SIDES
APPETIZERS
ENTRÉES
DESSERT
With today's financial pressures, choosing what to menu is a critical consideration. Low-cost, high-value items like frozen roasted vegetables and french fries can serve as the basis of profitable new dishes or help you increase the asking price of existing items. It's well worth the effort.