5 Tips on How to Develop a Late-Night Snack Menu
Mar 03, 2023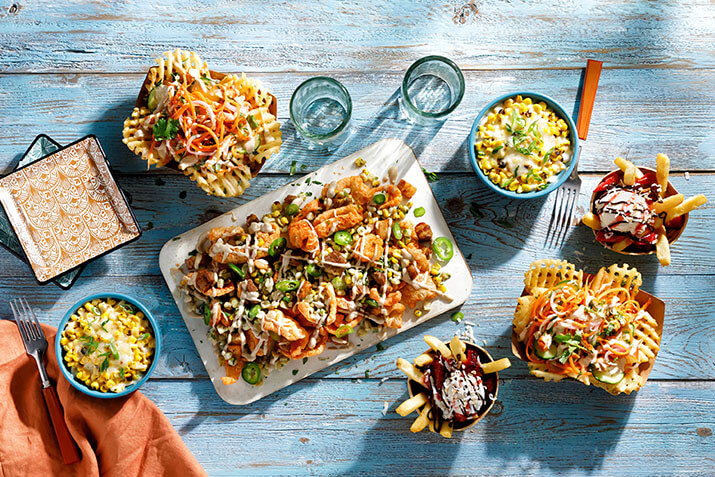 With COVID restrictions lifting, the late-night crowds are flocking to bars and restaurants, ready to spend money on experiences. 1 in 3 consumers goes out for late-night drinks at least once a week. Of those consumers, 47% eat an appetizer, snack, or side dish.1
But with labor and food costs skyrocketing, restaurants are reducing their hours to stay afloat and missing out on late-night opportunities. With the right strategy and plan, having a late-night menu can be profitable for your restaurant. In this article, we give tips, tricks, and ideas from other restaurants on how to do it.
Know your customers
It's essential to understand who your potential late-night customers are. This clarity will help you determine the concept for your menu, your restaurant hours, and what types of specials to run.
Do your current customers skew Gen Z or Millennial? Are you located in the suburbs, near clubs, or by a college campus? Is your primary goal with a late-night menu to attract people to your establishment or to have another revenue stream?
The answers to these questions will help determine what kind of late-night offerings you want to pursue.
In December 2022, the Frito Lay company launched Doritos After Dark, an "after-hours food experience offering elevated, globally inspired bites." According to their research, their customers, especially Gen Z customers, found snacking to be most satisfying late at night. In response, they launched a ghost kitchen concept to cater to those looking for late-night delivery options.
In contrast, Zig Zag Cafe in Seattle is known for its late-night menu that caters to customers looking for classy cocktails and elevated food experiences. With items on their menu – such as Mushroom Eclairs and Octopus Fritters – and a dark and cozy atmosphere, their bar appeals to a different demographic than Doritos After Dark.
Streamline the process
Developing a new late-night menu and staffing a few extra hours could seem daunting, so simplifying and streamlining is the most effective way to implement one. For the menu, that can mean a few different things. You can make smaller or stripped-down versions of regular menu items. Or you can use your late-night menu as a means of inventory management by taking leftover items from dinner service and making loaded fries or whacky nachos. As for staffing, ideally, your menu should be limited and streamlined enough that a skeleton crew of one or two people can run the line.
Reel 'M Inn is a dive bar in Portland, OR, known for its strong well drinks and, surprisingly, its fried chicken and wedge potatoes. Staffed by only one bartender at all times (and with only one fryer), customers are willing to stick around for the up-to-an-hour wait time it usually takes to get their signature fried chicken basket, considered the best in Portland. In the meantime, they're buying drinks. They have an incredibly streamlined system and a customer base that knows what to expect. And the experience keeps the place busy all the time.
Make it an experience
Quintessential to your late-night menu is creating an experience that is impossible for customers to pass up. Whether you do that with the food, the atmosphere, or other late-night activities is determined by your goals. According to Datassential, the optimal time for a late-night promotion to begin is 9 pm.1
How you get people in the door is up to you. If your focus is on the food, offer a menu with a range of price options or offer BOGO deals on specials. Whatever the concept, make sure your specials and discounts are playing to the customers you are trying to attract.
Need some inspiration for late-night menu options? Check out these recipes:
Spicy Chicken Banh Mi Fries
A banh mi without a bun? That's right—load up a plate of crispy lattice fries with spicy roasted chicken and top with quick-pickled veggies. So good!
View Recipe »
Korean Street Corn
An ever-popular Korean dish that usually accompanies Korean BBQ—this one can be featured as an appetizer, tasty side, or late-night treat.
View Recipe »
Spicy Pork Skin Nachos
If these spicy pork nachos are wrong, we don't want to be right. Use hot and spicy chicharrones as a base and load 'em up with crispy pork belly, spicy corn, fresh jalapeños and a creamy sauce.
View Recipe »
Strawberry Mounds Dessert Fries
French fries really do go with everything, in this case, ice cream! Take a scoop of vanilla and make it noteworthy when you serve it with Simplot Conquest® Delivery+® fries, strawberries, hot fudge and shredded coconut.
View Recipe »
If you want to create a party-like atmosphere, some bars or restaurants have karaoke, comedy acts, or games to keep customers eating and drinking. Maybe you don't want to take on the added effort of creating a late-night menu, so consider collaborating with another local chef to host a pop-up. Whatever you do, create an experience that customers will keep returning for.
Get the word out
To ensure your late-night offerings are successful, you need an effective marketing strategy. If you're in a highly trafficked area, make sure there's visible signage that lets people know your deals up front. Traditional digital marketing tactics such as targeted ads, email marketing, and third-party delivery app partnerships can go a long way.
But the most effective tactic is still word of mouth, and social media can be an extension of that. Here are a few ways you can use social to market your menu:
Use visually appealing images and videos of your dishes to entice your audience.


Share posts with hashtags related to late-night dining, such as #midnightmunchies, #latenighteats, or #nightowlfood.


Collaborate with local social media influencers and food bloggers to showcase your menu and reach a wider audience.


Create a secret hashtag in your content and encourage others to engage with it to get late-night discounts.


Host contests to encourage engagement and increase awareness.


Track your social media analytics to see what's working and adjust your strategy accordingly.
Donnie Vegas, a bar in Portland, OR, creatively encourages follower engagement and user-generated content with their late-night menu concept, "Hot Dog Sandwiches." The question "is a hot dog a sandwich" is a hotly debated topic that gets people talking, and using it gets people talking about it on social media (as well as in their bar). When a customer posts something on their social media, ask if you can share it to your feed. You simultaneously get someone else to make content for you and show your followers the great things other customers have to say. It's a win-win.
There are several crucial factors you need to consider to make a successful late-night snack menu for your restaurant. Happy hour specials, creative appetizers, and an active social media presence are key elements that can help you attract customers and increase sales. Whatever tactics you use, ensure they align with your restaurant's brand, goals, and target customers.
1 Datassential, Late Night SIP 2022