4 Operational Trends for Restaurants in 2022
Jan 03, 2022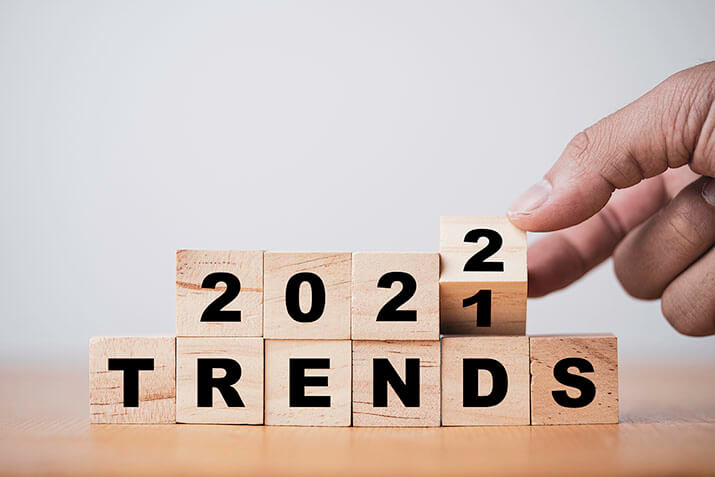 What can operators expect to see from the industry in 2022?
In some cases, more of the same. The supply chain crisis and labor shortages won't necessarily go out with the year. But new technology and restaurants' innovative solutions are creating room for opportunity.
Four emerging trends point to the continued need for adaptability and flexibility in an evolving industry in the coming year.
Labor and product shortages will continue
Labor shortages and supply chain disruptions will continue to impact just about every aspect of the foodservice industry in 2022. Even as operators have responded to labor shortages by raising wages, total employment in leisure and hospitality is down 10% compared to pre-COVID levels, the lowest of any industry.1

Labor shortages across the country are contributing to the proliferation of supply chain issues. The long-haul truck driver shortage reached a peak in 2021, rising 30% above the last three years. Considering that more than 70% of freight in the U.S. is carried by truck, the truck driver shortage is one part of the transportation bottleneck that continues to build.2

There are some signs of relief on the horizon. Experts predict that by mid-2022, the labor market will begin to ease.3 They estimate a similar timeframe for the easing of supply chain issues.

In the meantime, providing multiple service styles that welcome on-premise diners while focusing on take-away and delivery options will allow operators to stay nimble and save costs.


The move to digital is accelerating
As labor shortages continue, artificial intelligence (AI) offers a potential solution. From kitchen robots that can help with food prep to robot delivery, digital solutions can help operators overcome some of the challenges that have persisted throughout the pandemic and beyond. Automated delivery is already being tested in cities like Los Angeles and Denver, with that set to expand in 2022, particularly for last-mile delivery.4 In the year ahead, we can expect to see more robots taking on back-of-house tasks, and front-of-house robots that help with bussing tables and serving may become more common as well.5

Digitizing restaurants goes beyond robotics, of course. With 60% of consumers reporting they are reluctant to touch a restaurant menu, digital menus and QR codes offer a safer option that appeals to a health-conscious public.6 Operators are making online ordering as user-friendly as possible and ensuring their restaurants are available on online ordering apps to keep operations accessible and available to consumers.

A growing interest among consumers about where their food comes from has some technology companies looking to blockchain for its tracking potential. Tracking food offers potential cost-saving benefits for operators, too, as chefs can use the data to determine the best time to use products. With the potential to alert distributors to supply chain failures, blockchain may serve as a boon to the entire foodservice industry in the coming years.7


Creativity can overcome ingredient shortages
Faced with supply chain snags and labor shortages, operators have leaned into the opportunity for innovation and experimentation, and consumers are ready. Patrons are more open to trying a new ingredient or dish at a restaurant than purchasing it at retail.8 Inspired by social media and the desire to go somewhere new without boarding a plane, consumers are ready to explore far-off flavors and diverse dishes.

In response, operators are getting creative, introducing longtime ingredients in new ways, such as roasting items they typically served raw. Methods like pickling, aging, and fermentation can bring out fresh flavors in classic ingredients.9 Restaurants can keep consumers excited with fresh takes on existing dishes that add new spices and sauces. Opting for frozen and prepared products will also help operators keep ingredients on hand with less waste and labor.


Plentiful plants are attracting health-conscious consumers
Consumers have been more health-conscious since the start of the pandemic, and the focus will continue as a long-term trend. This is reflected in the growing interest in plant-based foods. Consumers of all ages want to eat more vegetables: Boomers, Gen X, and Millenials all identified vegetables as the food category they are consuming more of, and Gen Z rated vegetables second only to fruits.10 In stores, sales of fresh vegetables have been up since 2019. More and more restaurants are adding plant-based alternatives to their menus, orders of which were up 20% compared to the same time in 2019.11

The vegetable-forward trend isn't necessarily geared towards a specific diet. Many more consumers fall into the categories of 'flexitarian' or 'vegan-curious' than strict vegan or vegetarian.12

While health may be the primary reason consumers are interested in eating more vegetables, their taste buds still have a vote. To succeed with the vegetable-focused trend, plant-foward dishes must pack a flavorful punch. Marinades and zesty sauces help infuse vegetables and fruits with flavor just as they do for meat. Some operators have successfully used fermentation to deliver the complex, satisfying flavor that health-conscious, meat-eating consumers crave.
Restaurants rise to the challenge
The consumer demand for the meals restaurants provide has proven to be virus-proof. In an uncertain landscape of new variants, plus labor and supply chain shortages, your resilience and the drive to innovate will help you meet the new year prepared.
1
Cleveland Research Company, Leisure & Hospitality Labor Shortages and Wages, September 2021
2
American Trucking Associations
3
Joblist, Q3 2021 U.S. Job Market Report, October 2021
4
Forbes
5
Foodservice Director
6, 7
Business Insider
8, 10
Datassential Trendspotting, Vol. 94
9
Food Service Director
11, 12
New York Times