16 More Things You Can Do to Overcome the Restaurant Labor Shortage
Oct 14, 2021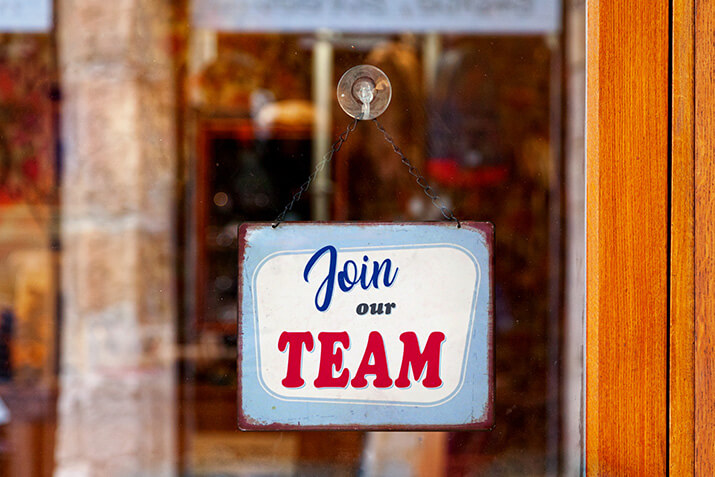 This is the third article in our series on the labor shortage facing restaurants. To read those articles, click here and here.
After struggling to stay afloat during the pandemic, stats like the following can only leave restaurant managers shaking their heads:
According to a survey of 13,000+ job seekers by Joblist released in October, 77% of hospitality workers are thinking about quitting their jobs, including 58% who are considering quitting before the end of 2021, the highest percentages of any industry in the report.
Their reasons vary:
Low pay (55%)
Desire for a new career path (50%)
Lack of benefits (39%)
Difficult customers (38%)
Schedule inflexibility and long hours (34%)
COVID-19 risk (23%)
The physical demands of the work (23%)
Restaurants have always had relatively high turnover, but the stresses brought on by COVID-19 have been especially discouraging for hospitality workers. In the same survey, these workers were the most likely to be thinking about quitting their jobs due to unhappiness with employer treatment during the pandemic (34% vs. 24% in other industries).
So given these historic headwinds, how can you attract the people you need to operate?
Finding solutions to the restaurant labor shortage
In April, we published 9 Tips for Dealing with the Restaurant Labor Shortage, which, not surprisingly, advised operators to raise wages and benefits, among other things. All of those recommendations still hold true. In this article, we'll expand on them with additional suggestions that may not be so obvious.
First, close the back door. After you've spent so much time training and mentoring your workers, losing even one is an expensive setback. The first step to labor wellness, therefore, is to stop the bleeding. Odds are your staff is working harder than ever, especially back of house, to keep up with the surge in off-premise orders.
What would encourage them to stay? A survey of foodservice workers by One Fair Wage revealed the following wish list:
A full, stable, livable wage with additional tips (78%)
Paid sick leave (48%)
Increased hours (38%)
Better health insurance (37%)
Less hostile work environment (37%)
Better COVID-safety protocols (34%)
In addition to addressing these priorities to the extent you can, here are a few more things you can do to keep people from walking out the door:
Talk to your people. Check in to see how they're feeling. Validate their concerns. Act on their suggestions. So often, the decision to stay or leave is less about money and more about feeling heard and valued. It's amazing what offering an open ear or a note of encouragement can do.
Mind your bonuses. Consider starting a program of retention bonuses for existing staff before paying out hiring bonuses to new employees. Failing to do so is toxic to the morale of the people who stuck it out with you during the darker days of the pandemic.
Chart clear paths for career advancement. Show them what the path to higher levels of responsibility and income looks like—before someone else does.
Don't tolerate abusive behavior by co-workers or guests. Be it sexual harassment, verbal abuse or conflicts over masking, stick up for your team members and make them feel like your restaurant is a safe place to work.
Get serious about online recruitment. The internet is the first stop for the overwhelming majority of job seekers. Are your job postings easy to find? Do they stand out among the universe of other restaurants looking for workers? Here are some suggestions:
Create a Careers page on your website. According to CareerPlug applicants via company career pages are seven times more likely to be hired versus job-board applicants. It makes sense: just taking the time to visit your site demonstrates a higher level of interest in your specific restaurant. Give your careers page a prominent listing on your home page, so it's easy to find. And make sure the page itself tells a compelling story about why your restaurant should be at the top of their list. Most restaurant jobs have similar requirements, so it's your restaurant's culture that can make the difference. Tone and personality can convey that it's a fun, cool place to work. Get help writing it if necessary and show it around to your staff to make sure it rings true. The same goes for your job descriptions.
Don't get too cute with the name of the position listed. Job seekers will be using search terms like "server" or "line cook," so use the most common terms for the position in your posting rather than things "guest delight specialist" or "sushi savant."
Be upfront with the wage range. You may be tempted to fudge this with less specific language, but the sooner prospects can determine if the pay will cover their expenses, the better. It saves all parties time in the long run.
Think beyond the major jobs boards. For example, local colleges and universities often host their own job sites for students. In addition, many job boards cater to minorities And, of course, you should leverage all of your social media channels and encourage followers to share your job posts.
Geotarget your ads. Many social media platforms and online boards offer the option to target your ads only to viewers in specific geographic areas, so you can focus your message on the nearest job seekers—which can help mitigate potential transportation limitations.
Include videos and pictures in your job posts and careers. Like any other ad, posts with videos and photographs—visually demonstrating your restaurant's culture—will be more successful than plain text.
Follow up with a phone interview first. Unfortunately, a significant percentage of online applicants never show up for their in-person interviews. So save yourself some time and conduct your initial interview over the phone so you can judge their actual level of interest before investing more effort.
Expand your referral program to include guests. Applicants who apply from a referral are 13 times more likely to be hired than applicants from job boards, according to CareerPlug. It's no wonder referral bonuses for existing employees have staples of restaurant recruitment programs of late. But consider extending your referral program to guests who recommend their friends and family. Get creative with how your reward them. Add stickers advertising your employment opportunities and referral program to your delivery and takeout orders.
Make scheduling more flexible (and less). Employers like Uber and DoorDash—who are competing directly with you for labor—will always be able to offer more schedule flexibility than a restaurant. So, in addition to flexibility, consider offering more schedule stability. Potential employees seeking job security and steady income often prefer a set schedule versus waiting until Sunday to learn when they're working. Think about using high school students to fill in the gaps during odd shifts after school, like 3 pm–7 pm. Make sure your job posts make them feel welcome to apply.
Cross-train your staff. Training your employees to handle more than one job adds flexibility to your operations, especially when people fail to show for their shift or quit on short notice.
Pay them on a daily basis. Many employers—like third-party delivery services—have begun giving their workers access to their earnings daily rather than waiting for paychecks that arrive every other week. This is especially attractive to low-income workers without few financial reserves. For example, payroll company ADP offers a smartphone app called DailyPay that offers workers 24/7/365 access to the money they've already earned. The company claims employers using the app have seen a 45% reduction in turnover, 87% higher employee satisfaction, and 52% faster hiring of new candidates.
Is your restaurant really a good place to work?
Many employers were quick to blame enhanced unemployment benefits for intensifying the labor shortage. But, as reported by The Wall Street Journal in August, the expiration of these benefits did not spur Americans to rejoin the workforce in significant numbers. The upshot? It may be time for every employer—restaurants included—to take a hard look at their business practices and cultures and make the changes necessary to attract workers back to the industries that so desperately need them.