10 Ways to Build a Better Menu for Online Ordering, Delivery and Takeout
Sep 30, 2020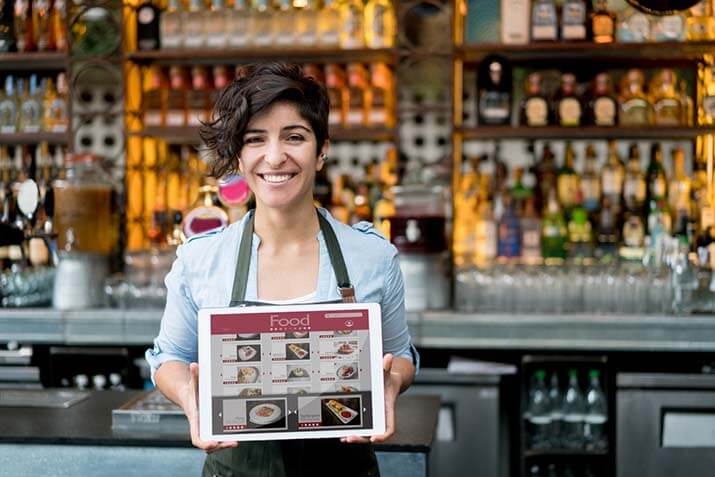 There are a lot of challenges to starting a delivery or takeout program. There are the costs associated with delivery and packaging, engaging with your customers and managing their expectations, and figuring out the logistics.
A big part of mitigating these challenges is building a menu specific to off-premise dining. It's important that you don't just take your whole dine-in menu and post it online. Here are some things to consider while building a menu to make your off-premise program successful.
1. Make a smaller menu.
First things first, don't use your extensive dine-in menu in its entirety. Limit your online menu so the team on the line can do it quickly and efficiently without getting bogged down when the kitchen is busy.
2. Opt for profitability.
Because of the extra expenses when it comes to third-party delivery and takeout in general (packaging, etc.), menu your most profitable items. Or find ways to make other items more profitable (which will likely help with efficiency, too).
3. Consider your best sellers.
Is there a specialty item that consistently brings people in? That may be a good item to have on your delivery menu because people will come to you specifically for that item. On the flip side, if that item is particularly low margin, doesn't travel well, or has a complicated pick up, you may have to make the tough decision to cut it from the menu.
4. Consider the packaging.
Run tests to determine what kind of packaging works best for your food. Usually vented paper or cardboard help things hold better and not get soggy. Another thing to think about is that 50% of consumers will consider a restaurant's eco-friendliness when picking a place to eat. This led the National Restaurant Association to put eco-friendly packaging at the top of the industry trends for 2020.1 So look into eco-friendly packaging options.
5. Show your customers what to expect.
Rather than advertising your fully plated dishes, put photos of what your food looks like in the takeout packaging so customers know what to expect, like Cosecha Cafe in Oakland, California. This will help manage customer expectations so you can avoid complaints.
6. Think about add-ons and modifiers.
Since you can't upsell in person, add options to your menu items: size modifiers, toppings or protein additions, drink or dessert add-ons, or offer bundled packages.
7. Offer packaged goods.
Items like bottled beverages are easier for couriers and customers to transport, so consider offering these for off-premise orders rather than fountain beverages.
8. Offer family meals and meal kits.
Since more folks are stuck inside together, they're looking for full meals they can order. Consider adding family meal kit options or "make it a dinner for two" options for some of your customer favorites.
73% of consumers are interested in take-n-bake comfort foods from restaurants, but only 11% of operators say they have added more "comfort food" menu items.2
These include:
• Take-n-bake comfort foods 73%
• Build-your-own-pizza kit 68%
• Build-your-own tacos or burritos kit
• Ready-to-grill restaurant steaks 63%
• Take-n-bake desserts 63%
• Signature seasonings, sauces, and dressings 62%
• Build-your-own-burger kit 61%
• DIY BBQ kit 60%
• Decorate-your-own dessert kit 51%
• Cocktail kit 48%
9. Put fries on your menu.
With the stress brought on by the coronavirus crisis, Americans are hungry for comfort foods -- and fries are at the top of that list.3 Fries are a low-cost food item with a high perceived value, so they're a profitable side item to offer. Plus, customers can't easily make restaurant-style fries at home and they're willing to pay to get them. Fries like Simplot Conquest® Delivery+® will hold 40+ minutes and resist getting soggy.
10. Focus on quality.
Run some experiments in house by putting some of your dishes in the to-go packaging and letting them rest at room temperature for 30 to 40 minutes and then check the quality. Some of the dishes that other restaurant folks have found travel well are:
• Salads with dressing on the side in a sealed container
• Taco or nacho kits with all the components packed separately
• Pasta dishes like lasagna or with sauce packed separately and cooked al dente
(as the pasta will continue to cook in transit)
• Whole roasted chicken
• Fried chicken (when packaged properly) like the rosemary fried chicken from
Minnie Bell's Soul Movement
• Soups
• Rice dishes like fried rice, biryani, and rice bowls
Looking for specific Simplot products that travel well?
• Conquest® Delivery+® Fries
• Simplot SIDEWINDERS™ Fries
• Simplot SeasonedCrisp® Fries
• Simplot Megacrunch® Fries
• Simplot Thunder Crunch® Fries
• All RoastWorks® Roasted Vegetables and Blends
• RoastWorks® Roasted Baby Bakers™ Potatoes
• Simple Goodness™ Premium Vegetables Whole Edamame
• Simple Goodness™ Premium Vegetables Shelled Edamame
• Farmhouse Originals™ Mashed Potatoes
• Harvest Fresh™ Avocados Fresh Western Guacamole, 2 oz and 4 oz cups
• All Simplot Good Grains™ Ancient Grain and Vegetable Blends
The popularity of off-premise dining is only going up. Figuring out how to build an online menu that keeps your business profitable, your employees sane, and your customers happy will continue to be an important part of running restaurants well into the future.
1
National Restaurant Association, "What's Hot", 2020
2
Datassential, 2020
3
NPD Group/CRESTⓇ, April 2020