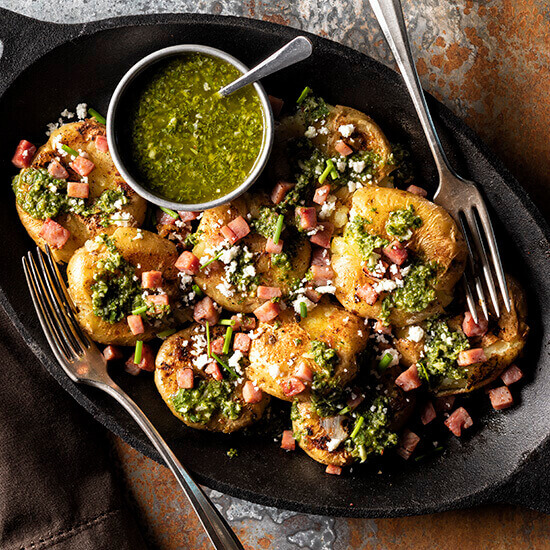 Products used in this recipe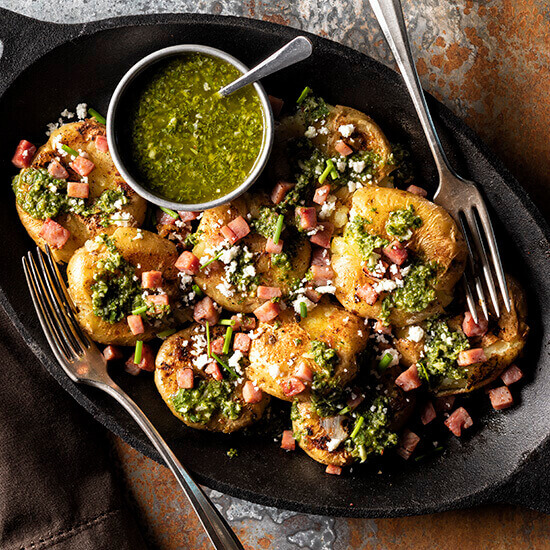 Yield:
4 Servings (13 oz.)
Yield: 4 Servings (13 oz.)
The appeal of roasting is as old as cooking itself. Cooking at high heat with an uncovered pan produces juicy, well-browned food that patrons love. Beyond the additional flavor and color, adding roasted to the description of a menu item can help increase the perceived quality of the dish. 81% of diners love or like roasting (Datassential SNAP, 2018) While roasting is most common in fine dining and casual operations, it is expected to grow more common across all segments by 2021. (Datassential Haiku, 2018) Even more compelling, roasted vegetable sides command a 32% upcharge versus non-roasted, a fact every operator can appreciate. (Datassential 2014) The median price of roasted dishes is up 17% over 4 years. (Datassential MenuTrends, 2017) These roasted smashed Baby Bakers are a smart way to capitalize on the roasted trend. Make sure you are using the term "roasted" on your menu to describe these delicious, latin-inspired spuds.
Preparation Instructions:
• Prepare the bakers according to package directions, or deep fry for 4 minutes at 345°F. Transfer to a flat top griddle and smash with a flat spatula to a 1/2" thickness.
• For each serving; place approximately 10 oz smashed Baby Bakers™ on serving plate, drizzle with 2 oz pesto sauce, 1 oz ham and 1/2 oz Cotija cheese. Garnish each plate with chopped parsley.
Products used in this recipe