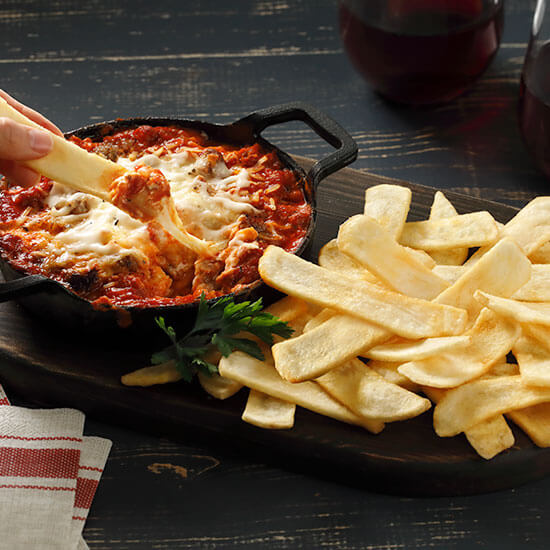 Products used in this recipe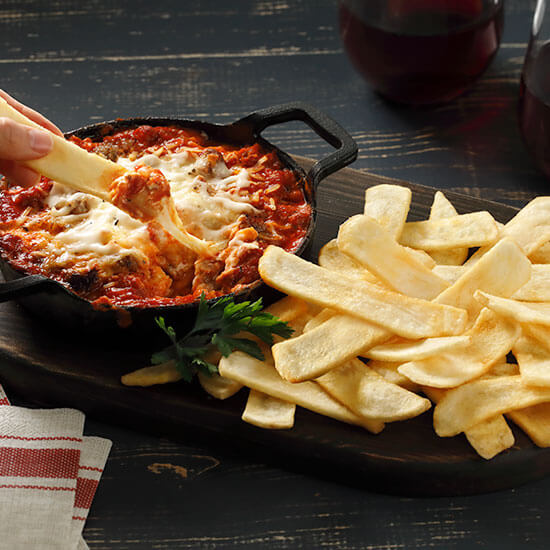 Yield:
10 Servings (22 ounces )
Yield: 10 Servings (22 ounces )
Wide and crisp, nothing's better with heavy dips than Conquest® Crispy Potato Strips. This lasagna dip impresses with marinara, Ricotta, Mozzarella, fresh basil and parsley.
Preparation Instructions:
Preheat convection oven to 350°F.
Prepare Simplot Conquest® Crispy Strips according to cooking instructions on the packaging.
In a large mixing bowl combine ricotta cheese and Bolognese sauce. Stir until well incorporated.
In an oven safe casserole dish, spoon the Ricotta mixture and spread evenly.
Pour marinara sauce over mixture.
Sprinkle Mozzarella cheese and Parmesan cheese over sauce.
Bake in a 350°F convection oven until internal temperature of 165°F is reached and cheese is melted and bubbling.
Remove from oven and let sit for two minutes.
Garnish with whole basil leaves and chopped parsley.
Serve alongside fried Simplot Conquest® Crispy Strips for dipping.
Products used in this recipe