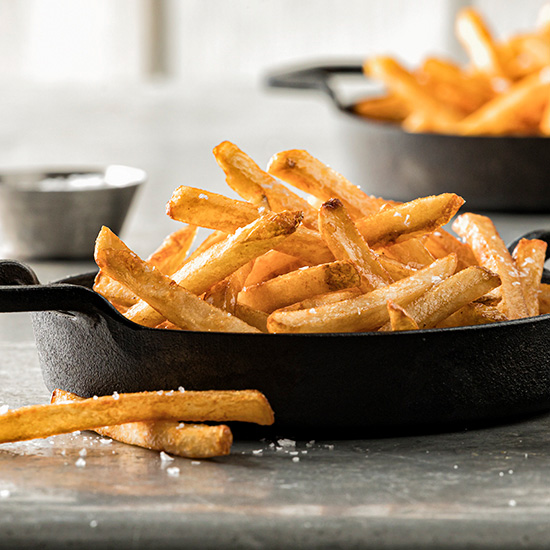 Products used in this recipe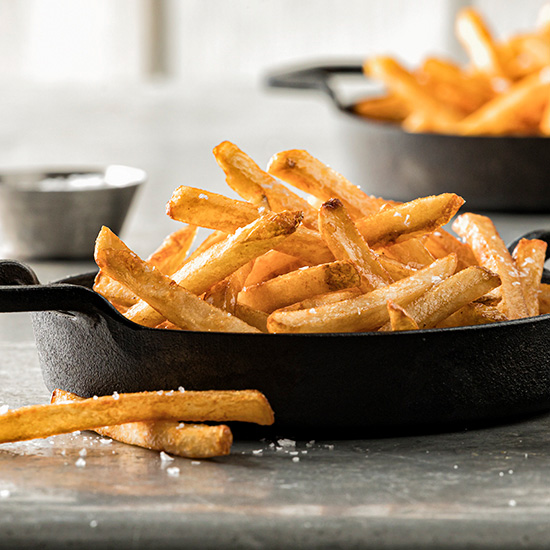 Yield:
8 Servings (10 oz.)
Yield: Model.Yield
Thin cut skin-on fries dipped in a sweet honey glaze and fried golden-brown and crispy.
Step 1 (Honey Syrup):
| Ingredient | Weight | Measure |
| --- | --- | --- |
| Honey | 8 oz. | |
| Water | 16 fl. oz. | |
| White sugar | 16 oz. | |
Preparation Instructions:
Step 1 (Honey Syrup):
Combine the sugar, water and honey in a saucepan over medium heat, stirring until the sugar is dissolved. Bring to a boil and cook for 2 to 3 minutes. Remove from the heat and reserve for use.
Step 2 (Fries):
Heat 2 to 3" of oil in a shallow skillet to 350F on the stovetop. Place 10 oz. of the Simplot fries in a large bowl.
Ladle 4 fl. oz. of the syrup over the fries and toss to coat. Pour the fries and the syrup into a strainer or colander to drain any excess syrup before frying.
Place the coated fries into the preheated oil and cook according to the french fry package directions or until golden brown.
Scoop the fries from the skillet, drain and place in a single layer on a foil lined tray and separate any clusters. Salt if desired.
Note:
As the carmelized sugar builds up in the oil, strain the oil through a paper cone for extended oil use.
Products used in this recipe