Grain, Chili & Corn Chip Burger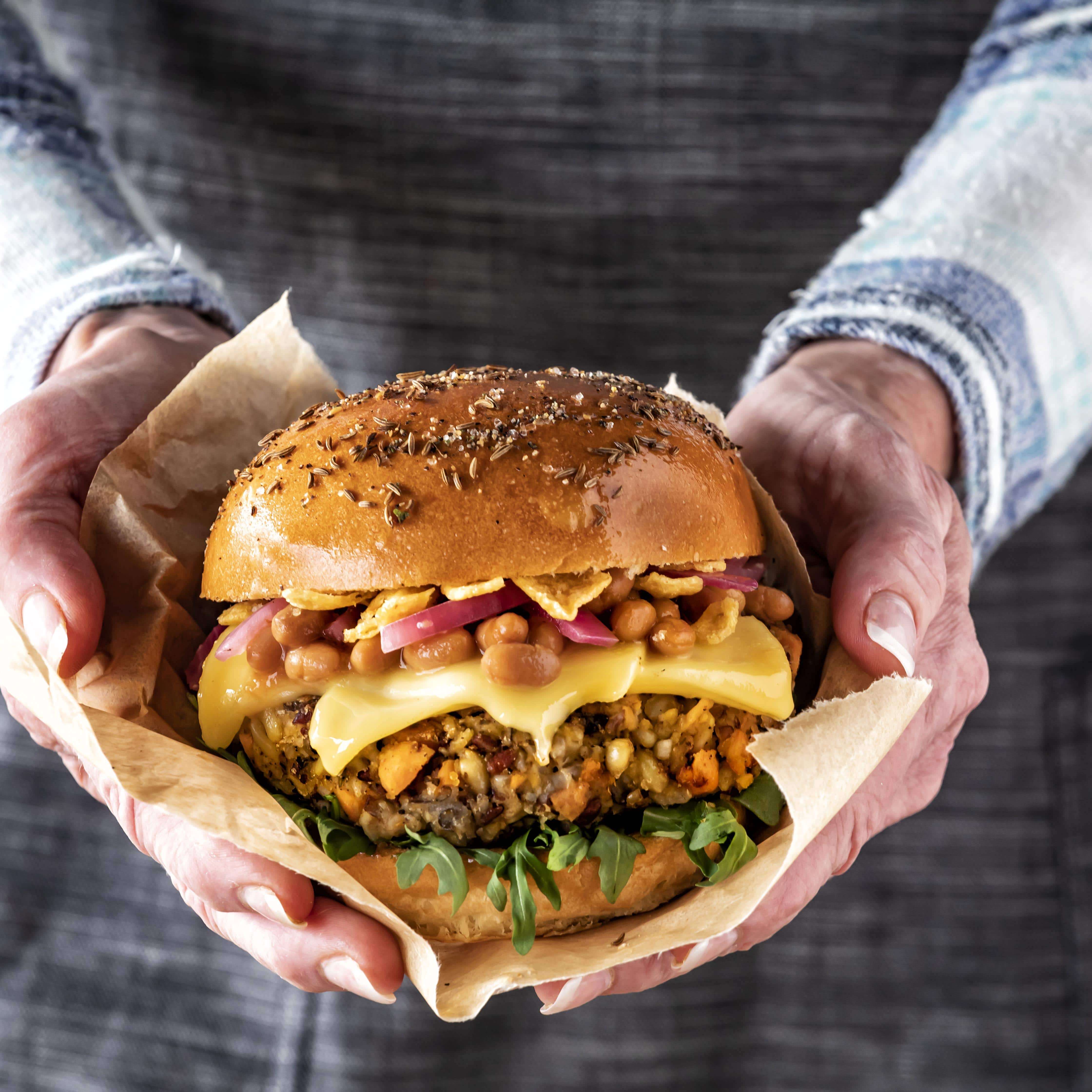 Yield:
12.0 Servings (11.5 oz.)
Yield: Model.Yield
Build
| Ingredient | Weight | Measure |
| --- | --- | --- |
| Hamburger buns | | 12 each |
| Sliced cheese | | 12 each |
| Corn chips, lightly crushed | 6 oz. | |
Preparation Instructions:
Burger Patties
Add oil to 12 inch saute pan and cook onions over medium heat until starting to brown, about 10 minutes. Add soy sauce, reduce heat to low and cook an additional 5 minutes. Place half of the thawed grains and mushroom blend in a food processor bowl along with chickpeas. Process about 1 minute or until incorporated, add onions and pulse an additional 30 seconds. Transfer grains to a bowl. Add remaining grains blend and stir to combine evenly. Portion mixture into 12 patties using a #8 portion scoop. Wrap individually and refrigerate or freeze until service.
Seasoning
Combine beans and tomatoes into a sauce pan bringing to a boil over medium heat, about 5 minutes. Add chipotle powder, cumin and masa flour. Stir until evenly combined. Add Exotic grain blend to the pot and cook for another 5 minutes. Adjust consistency with water if needed. Season with salt and pepper. Transfer to a holding container until service.
Build
For each serving; prepare grain patty in a preheated saute pan or on the flat top over medium heat for about 4 minutes on each side or until cooked through. Top with cheese and let it melt before transferring to a toasted bun. Top with 4 oz of chili and 1/2 oz corn chips.
Products used in this recipe