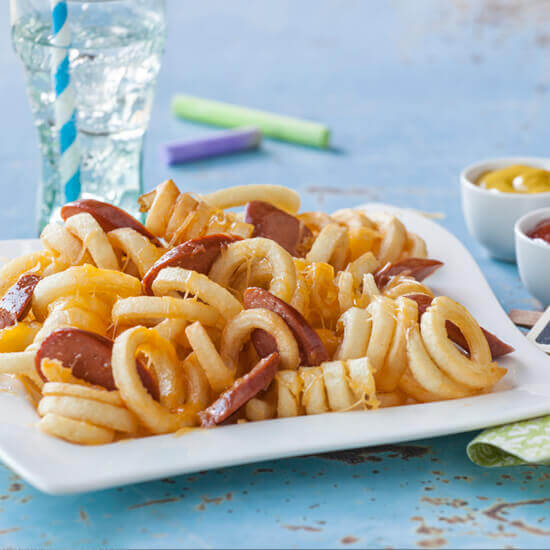 Products used in this recipe
Simplot Select Recipe® Dog Tails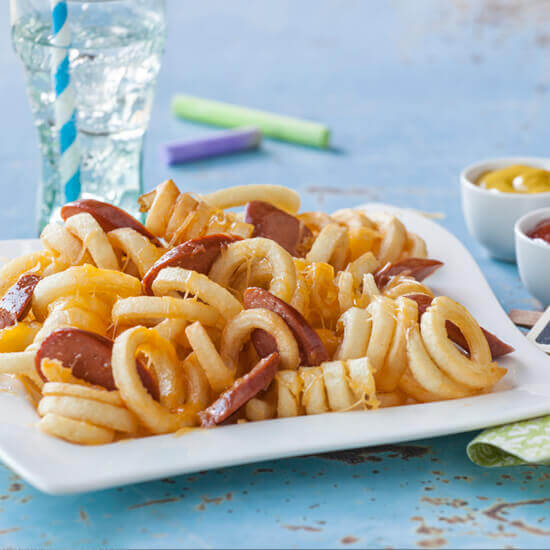 Yield:
13 Servings (8 1/2 oz.)
Yield: 13 Servings (8 1/2 oz.)
When parents of young children decide where to eat they tend to prioritize a family-friendly environment at full-service restaurants. About nine out of 10 parents at family-style (92%) and traditional casual-dining (89%) restaurants, and 81% of parents at upscale casual-dining concepts, say that such a kid-friendly atmosphere is important to them when deciding which restaurant to visit.* One way to cater to kids is to offer exciting, kid-friendly menu options. Simplot's Chef Z created the Dog Tails recipe as a fun way to combine three kid-favorite items, hot dogs, cheese and French fry loops. Created with our chef-crafted recipe featuring real sea salt, Simplot Select Recipe® Fries offer outstanding flavor and texture that makes them the perfect base for French fry builds.
Preparation Instructions:
• Cook 6 oz of loops according to instructions on package. Place into serving container and top with one bias-sliced hotdog that has been prepared according to instructions on package. Sprinkle with 1 oz. of shredded cheddar cheese and serve.
Products used in this recipe