Pacific Rim Loaded "Paint Can" Potato Strips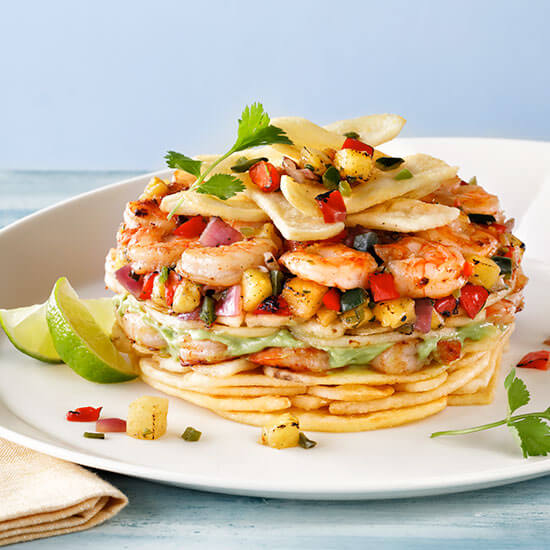 Yield:
10 Servings
Yield: 10 Servings
With their flat shape and outstanding crispness, Conquest® Crispy Potato Strips are perfect for layered items like this "paint can" application, featuring shrimp and RoastWorks® Flame-Roasted Pineapple & Pepper Blend.
Preparation Instructions:
Prepare Simplot Crispy Potato Strips according to cooking instructions on the packaging. Thaw Simplot Harvest Fresh™ Guacamole according to instructions on packaging and hold under refrigeration.
Use a tall round mold, like an old number 10 can, paint can or other mold with both ends cut off.
Place the can on a large platter. Place some Simplot Crispy Potato Strips on bottom layer. Build with some coconut curry cream sauce, some guacamole, some shrimp, some Simplot Roasted Pineapple Salsa and some chopped cilantro.
Repeat the process a couple more times until strips are well layered.
Carefully remove the can mold to reveal a loaded potato stack. Garnish with more chopped cilantro and lime wedges. Make 10 individual stacks.
Products used in this recipe