Rise of the Super Bowl
Sep 17, 2018
From ancient to classic, and quinoa to wild rice, grain bowls are showing up on menus everywhere. These grains provide the perfect versatile base for a variety of combinations. When paired with vegetables, legumes, and flavorful toppings, grain bowls are a colorful and popular menu option that consumers are looking for:
Rice/grain bowls are up 89% over the past four years1
25% of all entrées are bowls and have grown 28% over the past four years

1

Grain bowls have the highest incidence in fast-casual operations, a 20% increase 1
QSR operations are adding grain bowls the fastest, up 45.5%1
Casual-dining establishments are also added grain bowls at a rapid pace, up 39.2%1
What's behind the popularity of grain bowls? They deliver flavor and a wide range of nutritious options that appeal to consumers' health-conscious mentality. And no wonder: 80% of consumers identify whole grains as healthy.2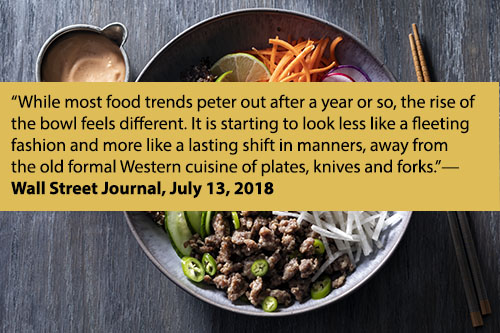 Which grains are the hottest?
Chefs and consumers are drawn to the nutty flavors of ancient grains that lend themselves to a variety of themes and pairings. With a higher protein content than most modern wheat varieties, ancient grains create a hearty base for bowls and feel familiar yet novel to consumers. Amaranth and red quinoa are especially on-trend, with red quinoa showing the most growth.
Red quinoa has grown 250% over the past four years1
Amaranth has also made a growing appearance on menus in the past three years, up 29%3
The rising popularity of so-called "superfoods" offers an opportunity to put more ancient grains on the menu. Most operators are familiar with quinoa, but here are a few more to consider:
Amaranth is an ancient South American seed that is easy to digest, has great nutritional value, and an intense, earthy flavor.
Black Barley is considered one of the top five cereal grains in the world, prized for flavor, color and nutritional value. When cooked, black barley has a more vibrant flavor.
Khorasan Wheat, an ancient grain whose name stems from the fertile crescent in modern-day Iran, is higher in protein and many minerals compared to modern wheat and has a nutty, buttery flavor.
The components of a great grain bowl
The basic formula is simple: start with a base of Simplot Good Grains™, layer-on flavorful, colorful ingredients, then finish it off with a tasty sauce to tie everything together.
Maximize your bowls' color, texture, and flavor with popular toppings like these:
Legumes: black beans, chickpeas, edamame, lentils
Vegetables: shredded carrots, radishes, cilantro
Nuts and seeds: almonds, walnuts, sesame seeds
Fruits: berries, mangoes, tomatoes
Plant-based proteins: flavorful tempeh and tofu
Housemade sauces: tzatziki, chimichurri, sriracha
Although almost any combination can create a crave-worthy grain bowl, it's smart to start with a theme to tie ingredients together. Themed bowls that draw on seasonal and global flavors produce Instagram-worthy dishes that attract customers, like the Bahn Mi Bowl. Inspired by the Vietnamese sandwich, red quinoa serves as the base with layers of radishes, jalapeños, carrots, cucumbers lime, tempeh, and spicy mayonnaise to top it off.
Check out these additional recipes for grain bowl inspiration:
Make the most from your bowls
Incorporating ingredients you already purchase can help you offer on-trend bowls while holding operating costs in check. Use limited-time offers with seasonal ingredients to keep customers interested and coming back. (That's another great thing about bowls: you can rotate seasonally without the need to change equipment, design, or labor.) Finally, offer something for everyone by making vegan and vegetarian grain bowls as standard options, with animal proteins available as an upcharge.
Use pre-cooked grains to cut prep time in half
One barrier to using ancient grains is their lengthy variable cook times. In busy kitchens, this can lead to texture inconsistencies, especially when attempting to blend different grains.
Frozen ancient grains, like Simplot Good Grains, are a smart, time-saving alternative to scratch-made. For example, Good Grains™ Red Quinoa delivers consistent results and is ready to use in 6-8 minutes compared to 12-15 minutes for dry quinoa. Prep is as simple as heat and serve.
Learn more >>
Let the bowling begin
While grain bowls have been a staple of other international cuisines, they're only now hitting their stride in the U.S. With their inherent versatility, they can be readily adapted to almost any menu or theme, giving chefs a great opportunity to offer the healthy dishes patrons want in new, unexpected ways.
To request FREE samples of Simplot Good Grains™ products, click here.
1 Datassential SNAP™, 2018
2 IFIC Food and Health Survey, 2018
3 Datassential, Trending Grains Report, 2016