Restaurant Trends 2023: 7 Things to Remember
Dec 15, 2022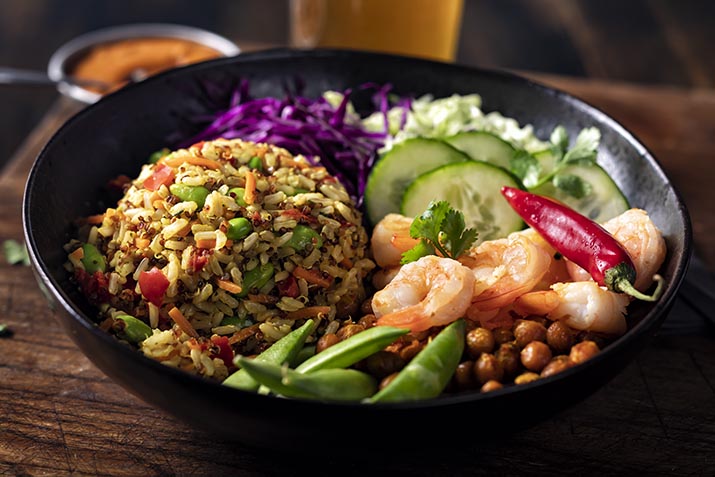 With the clock running out on 2022, now's the time to get smart on restaurant trends for 2023. Inflation remains a hurdle, but supply chain challenges for food and beverage are beginning to wane and customer demand is growing for social interaction and connection. The two big drivers of restaurant sales—convenience and socialization—will work in favor of the industry in 2023. Check out these top trends to capture the momentum of a return to recovery.
The restaurant experience is king

Dining experiences are the number one trend for 2023. After more than two years of social distancing and isolation, people are gathering for more than just a meal from a foodservice operator; they're coming together to enjoy the whole experience. In fact, about half of American adults would like to eat out more often.1

Experiential dining brings multisensory experiences into the dining mix, breaking away from traditional restaurant concepts. This type of experience challenges the usual expectations around eating out and aims to bring forward unique and memorable moments through inventive menus, sensory-focused dining, eccentric or thematic decoration, theatrics, unique locations, and activities.2



75% of diners believe it's worth paying more money for a unique dining experience.3


One of the best and easiest ways for operators to offer a dining experience is to change up your menu. 84% of people surveyed reported seeking out a surprising menu or theme.3 Read on for new menu ideas that will surprise and delight your customers.



Inflation may have an upside for restaurants, after all

Technomic, a leader in food service research, insights and consumer tracking reports that at the consumer level, bigger grocery store bills will shrink the perceived value gap between preparing meals at home versus food prepared at a restaurant, making dining out more attractive - and consumers are ready to dine out again.


More grains on the menu, please

Grain and grain products will continue to deliver in 2023.1 Their high profit margin and adaptability make them menu all-stars. They can do double duty as comfort foods (think pasta, french toast, and bread) and as new players in old standbys, like bowls and handheld wraps.

Gluten-free diners will also see more options in 2023 with grains like millet and teff on the menu. New global influences with grains can also add a twist with menu items like globally-inspired salads, southeast Asian food (Vietnamese, Singaporean, Filipino), and breakfast rice bowls, also on trend.4


Pickling and fermentation: Get ready to pucker up

Pickling and fermentation of food may be an ancient practice, but you're about to see them in a whole new light. Far beyond the green slices on your hamburger or the spears next to your sandwich, pickled and fermented food is exploding (but, thankfully, not in the dangerous way). Pickled food is making its way from a topping and condiment to drinks, desserts, and entrées. Yelp's 2023 Food Trends reports searches for pickle-flavored foods were up 55% in 2022.5

In 2023, look for pickling in proteins, herbs and nuts, and even french fries. Fermentation will also show up in drinks, like the pickle martini, and in gut-healthy drinks like kombucha.1 Pickling and fermentation can also be a way to bring the zing to produce in popular condiments like kimchi, extending the shelf life of perishables while reducing kitchen waste.


Restaurants waste not, want not

Zero waste, sustainability, and upcycled foods remain hot trends in the restaurant industry.



In a survey of 7,000 global consumers, respondents revealed eco-friendly takeaway and delivery options are important to their ordering decisions.6


65% said that while they find healthy, sustainable eating to be more expensive, almost half (43%) are willing to pay more for takeaways in restaurants that have visible sustainability practices.6


Another 47% would even consider changing what they order from the menu to be more sustainable.6



One way to reach these eco-conscious customers is by offering plant-based items on your menu.



According to a recent Datassential study, 28% of consumers prefer plant-based proteins over animal-based proteins.


A Nielsen study found that 39% of consumers are trying to eat more plants in general.7


Yelp search data confirms this trend as well, with searches for "plant-based" increasing an average of 56% each year from 2018 to 2021.8



Another way to adopt sustainability and zero-waste practices is menu streamlining. Digitizing your menu can make it easier to update while reducing paper waste.


Charcuterie all around

Charcuterie boards are not new, but they're still a favorite with the younger generations who like shareable dishes. Boards piled high with a variety of snacks are easy to customize and can be great plant-based foods for your menu. Be sure to consider labor costs in assembling them and price accordingly.


Chicken sandwiches 3.0

Go beyond the bird and the bun with spicy and sweet-heat fusion flavors and fried chicken thighs. This is one of the top lunch trends for 2023. Consider if it's time to wade into the battle of the chicken sandwiches.


Work harder to make an event out of every restaurant visit
Already, 47% of consumers say they're taking a wait-and-see attitude about spending in anticipation of a possible recession.9 So, whether it's your food, your setting or your service, restaurants will need to work harder to create extraordinary dining experiences that nudge customers to dine out. Pink food? More exciting limited-time offers? It's time to pull out all the stops.
1 Technomic, What We Foresee for 2023, 2022
2 From Trend to Restaurant Reality: What is Experiential Dining?
3 Eventbrite Explores Cultural Shift Towards Events in the Food & Beverage Industry and the Value of the Experiential Diner
4 What's Hot 2023 Culinary Forecast Webinar, Dec. 2022
5 Yelp's 2023 Food Trends
6 Why Sustainability is Crucial to Restaurant Success Today and in the Future
7 How and Why to Expand Plant-Based Menu Options
8 Yelp Makes It Easy To Fnd and Support Eco-friendly Businesses with New Business Attributes
9 National Restaurant Association, 2022