Round Up: Inspiring Ideas from Operators to Help Your Business During Crisis
Mar 28, 2020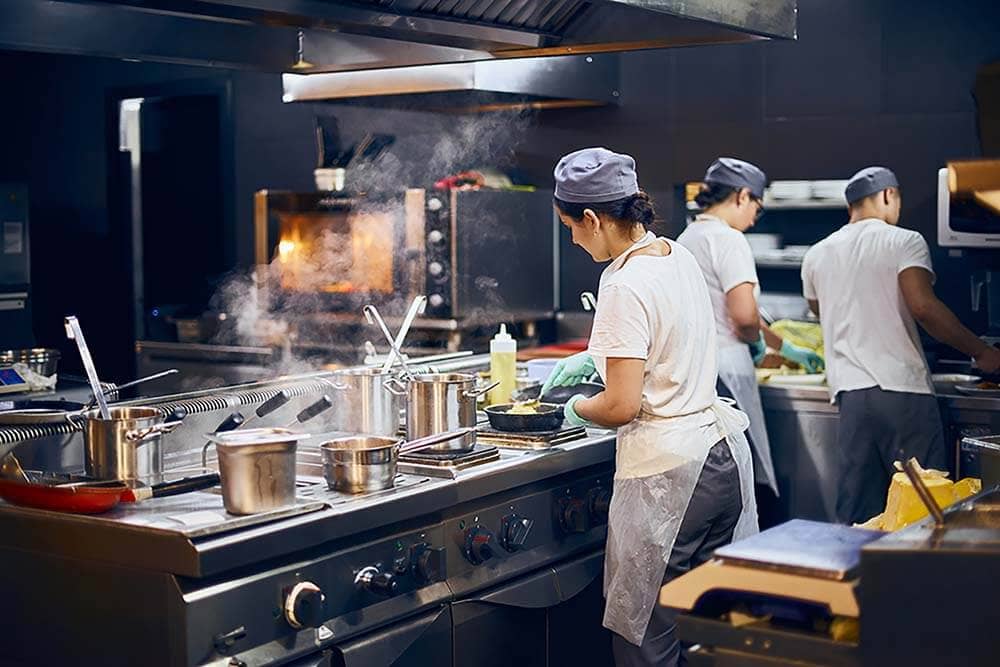 We're all pulling together to help support our operators and their communities during this unprecedented time. In every large-scale emergency, we have always been inspired by how individuals innovate and how others can take those good ideas and adapt them. Around the world right now, operators are innovating and adapting to survive and support their communities. Here are some stories to inspire you, inform you, and help you during this crisis.
Updated April 3, 2020
Revamp Your Menu for Delivery Success
Not everything travels well! If you're not ready to craft "prepare at home" meals, revamp your menu right now, like Misti Norris of Petra and the Beast, in Dallas, Tex., did. By creating an entirely new menu of heavy-egg yolk pastas that can sit for up to 30 minutes, they were confident of quality to boost the delivery business.
Social Media: @bonappetitmag, Instagram: @misti.j.norris
Show Up at the Farmer's Market
An opportunity to buy, sell, and promote at one of the few "events" not cancelled in many locations, farmer's markets offer an opportunity to connect with patrons looking for food. Oddfellows, a casual burger spot in Dallas, Tex., has set up its own outdoor market to sell food inventory on hand (and should be using the time to pass out delivery menus and taking down email addresses)!
Social Media: Instagram OddfellowsOC, Twitter @awalco
Take Your Wine Pairings on the Road
You work hard to maintain your licensing to serve adult beverages, so leverage that (and your inventory) to bring in the customers. Le Grenier, a French restaurant in Washington, D.C., patrons are offered a free bottle of French wine with any two entrées purchased.
Social Media: @legrenierDC
Become a Ghost Kitchen or Buy from One
Chicago's Wow Bao launched a first-of-its-kind off-premise platform selling its most popular product in bulk, frozen packaging to other restaurants looking for a great delivery option."With just a few pieces of equipment—and frozen products distributed nationally—just about any store can start selling Wow Bao buns out the back door to third-party delivery drivers," president Geoff Alexander says. If you have a crazy popular item that can be frozen and distributed, reach out to other operators outside your normal territory expand together.
Social Media: @wowbao, @QSRmagazine
Deliver Fresh Produce
Fusian, a sushi spot in Cincinnati, is delivering fresh produce alongside sushi rolls, bento, and bowls. Maximize your individual sale amount by adding anything and everything to your online menu. People are more reluctant to venture outside, so tempt them by bringing more than just one meal's worth of food to their doorsteps.
Social Media: @eatfusian, @FastCasual
Accentuate Special Occasions—Birthdays, Anniversaries are Still Happening
Do you cater? Host birthday events? Had a bunch of cancellations? Now is the time to pore over last year's orders and this year's cancellations and reach out ASAP. We may be celebrating in isolation, but that doesn't mean people don't want to celebrate. A woman in Minneapolis spread the word about transitioning a party catering order into multiple family-style deliveries to help support a tiny Hmong restaurant AND celebrate a Bar Mitzvah). So encourage patrons to send meals to party invitees and have a "virtual event" together.
Social Media: @bizbash, @mrotzie
Be Topical, Relevant, and Maybe a Little Funny
Butter@ bakery in San Francisco is creating "quarantine cakes" with PSAs such as "wash your hands," available for delivery as gift package. Get out your edible inks and decorate your cookies, donuts, cakes, and other sweets to help grab attention.
Social Media: @butter_and, @bizbas
Passover, Easter Dinners are Coming Up Quickly
Just like every holiday season, creating a special menu offering for family-style dining should be top of mind. If you're kosher business, focus on Passover. Do you normally stick to beef, pork, and chicken? Try your hand at a lovely Easter lamb meal. Deviled eggs? Hardboiled eggs? Easter and Passover offer opportunities for operators.
Social Media: @detroitjewishnews
Make Non-Food or Interactive Items in Your Restaurant Kitchen
If you're a distillery, you can make hand sanitizer like Rogue Ales in Coos Bay, Ore. is doing. But even without a still, you can take inspiration from like Divi Tree Coffee and Tasty Cheesecakes Bakery in N.J. and market unassembled ingredients to families looking for a good activity at home for kids, like cannoli kits or cookie baking kits. In Dallas, Kuluntu bakery is packaging and shipping sourdough starter to complement its engaging Sourdough 101 class hosted on Zoom. Salt dough for modeling clay? Food coloring for art class? Your kitchen's possibilities go beyond consumables.
Social Media: @Brewbound, @rogueales, @CultureMapDal
Get People Outside and Cooking Al Fresco
Spring is here in much of the country, so people are and will be using their stay-at-home time to do spring yardwork. Encourage patrons to fire up the barbecue grill and send home uncooked, marinated or seasoned meats, vegetables, potato wedges, and sides for a perfect outdoor feast, taking the lead from Weber Grill in Chicago. Be sure to include grilling instructions for different meat temperatures and vegetable cook times.
Social Media: @thewebergrill
Find a Mascot (and Hire Him!)
At the Stone House Urban Winery in Hagerstown, Maryland, an 11-year-old Boxer named Soda Pup has started making curbside deliveries, two bottles of wine at a time in his doggie backpack—"as long as there are no bunnies, or geese, or other critters to distract him," the winery's owner Lori Yata said on Facebook. If you have a clever pup, pony, drone, robot, or other "mascot," get in on the action to get some orders (and likely some great publicity).
Social Media: @stonehouseurbanwinery
March 28, 2020
Washington, DC's "Neighborhood Restaurant Group" Forms Online Portal for Meal Delivery, Pickup
Neighborhood Restaurant Group, operator of 20 independent restaurants in three states and the District of Columbia, responded to the crisis by standing up an online portal under a single branded entity. Customers can now order a selection of comfort meals, ready-to-cook foods, pantry items, and wine and beer—all with delivery options available. By coordinating all of the independent entities into one "large online restaurant," NRG has combined the power of chefs, managers, and beverage specialists. To learn more about the effort, check out their progress at www.nrgprovisions.com.
"Adopt a Healthcare Worker" Effort Boosts Business in California
Since Tootsie's, a cafe serving breakfast and brunch in Palo Alto, launched an "Adopt a Doctor or Nurse" program earlier this month, community members have commissioned the restaurant to prepare and serve more than 2,000 meals to hospitals in the Bay Area.
Social Media: @goodnewsnetwork, @tootsiesbarn
Donut Delivery to Healthcare Workers Keeps Shop Hopping
Supporting healthcare workers is a popular way for restaurants to connect to customers and to help during the crisis. Divine Donuts in Fort Myers, FL, is one of a number of bakeries participating and using the hashtag #DonutKindness.
Social Media: @TheNewsPress (Twitter), @The News-Press (insta), @Divine_donuts_ (insta)
Restaurant Turned Distributor in San Francisco
During this unique situation, restaurants are finding customers in places they never thought to look. Because their supply of fresh and frozen goods are through different distribution channels than other food and grocery operations, operators might be able to fill gaps others are having a hard time filling. Brandon Jew of, Mister Jiu's, in San Francisco, CA, pivoted to supplement independent grocery stories and corner stores who are looking to restock freezer sections.
Chefs Teach, Spread the Word, Ask for Donations on YouTube and Instagram
Virtual food events are popping up around the world as operators look to reach customers, encourage donations to support staff, and to protect their brand during social isolation. For example, Clover, a fresh-fast-food concept in Boston, MA, is one of many operations live-streaming cooking tutorials. From Puerto Rico to Nashville to New Mexico, chefs are still working to provide good food to patrons.
Social Media: @eater, @cloverfoodlab
Paying it Forward to People in Need in New York State
Sweet-N-Saucy Cafe in Big Flats, NY, is processing loads of takeout orders, but the people placing the orders aren't the ones picking them up. Instead, the cafe is handing the prepaid meals out for free to people who stop by and need a hot meal. Operator Sarah Lyon started the effort on Facebook.
Social Media: @wenytv (insta), @WENYTV (twitter)
Local Media Company Partners with Business Community to Help Transform Online Ordering
In Clarksville, TN, restaurants and retail are benefiting from a local media company's pro bono effort to create an aggregate website that helps customers find all of their locally owned and operated businesses on one site—ClarksvilleStrong.com.
Social Media: @clarksvillenow
Dinner With a Side of Toilet Paper
Eateries in Charlotte, NC, are offering family-style delivery meals, take-and-bake prepared meals, and classic takeout during the mass closures. What's different about Chef Alyssa's Kitchen, Desarno's, McCoy's Smokehouse, and Paper Plane Deli? They're giving a free roll of TP out with every order.
Social Media: @theobserver, @thecharlotteobserver, @chefalyssaclt @desarnos, @paperplanedeliandmarket
Feeding Children for Free
As children stay home from school, the cost to feed them may be out of reach for many families who rely on school lunch programs. In Macon, Georgia, 305 Seafood & Wings is providing free lunch to children via their drive-thru service.
Social Media: @41nbc, Facebook: @305SeafoodndWing
Fine Dining Establishments Start Drive-Thru Service
One of Seattle, WA, most acclaimed restaurants, Canlis, reinvented their business structure to accommodate the closing of their dining room. Now selling bagels and breakfast sandwiches in the morning and burgers, salads, and dessert in the evening—all through a drive-through. Saint Dinette, a fine dining operation in St. Paul, Minn., is one of many others adopting a similar strategy.
Social Media: @forbes, @saintdinette, @canlisrestaurant (insta)
Restaurant Week Moves Online in Chicago Suburb
Restaurants in Edgewater a Chicago neighborhood, asked the Edgewater Chamber of Commerce to put restaurant week online and in overdrive. By moving an in-real-life event to a virtual one, the chamber is helping remind customers to still enjoy neighborhood favorites.
Social Media: @abc7chicago, @saintdinette, @edgechamber