Hang On to What You Got: Retaining Your Best Employees
Employee turnover—it's inevitable and it comes in many forms, from voluntary to involuntary, retirement to change in life circumstances, making it often unpredictable. Attracting, hiring and training new employees is expensive, time consuming, can reduce service quality and potentially leaves holes in your schedules. And with the cost of hiring and training a new restaurant staff as much as $3500, keeping your employees is critical to a solid bottom line.1
In a shift that seems to echo the changing times in America, employee turnover has reached all-time highs across all industries in America.
Total turnover in all industries rose from 15.1% in 2013 to 18.5% in 2017 2
Even worse is voluntary turnover, at 13.5% in 2017, up from 9.1% just five years ago
But general restaurant turnover is basically double that number. According to the 2018 Upserve State of the Restaurant Industry Report eBook:
In general, restaurant employee turnover was about 30% in 2017
Highest at 32% in the Northeast
Lowest in the West at 27%
Quick service restaurants fared much worse, with typical turnover rates of as much as 120% according to the Cornell University School of Hotel Administration.3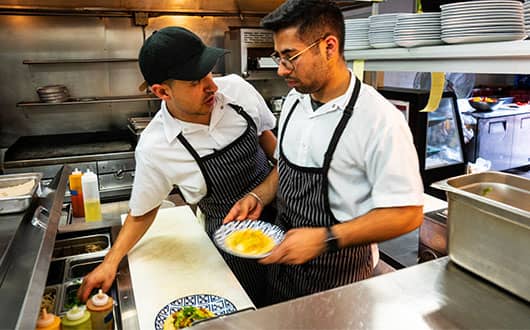 Why is turnover so high in restaurants?
Here are some interesting thoughts that point to restaurant work as an entry point into the job market for many:
One-third of all Americans got their first job experience in a restaurant, according to the National Restaurant Association 4
Half of all adults have worked in the restaurant industry at some point in their lives
An estimated 30% of seasonal restaurant jobs are occupied by students, far more than in past years, where students are more likely these days to be bussing tables than selling t-shirts 5
So, it seems, many folks work at restaurant jobs at some point in their lives, jobs that are plentiful these days to meet the ever-growing consumer demand for restaurant flavors and service.
Position matters
Turnover varies considerably by position. It's no surprise that support positions such as cashiers, bussers, dishwashers and other support roles have higher turnover rates.
These roles had a turnover rate as high as 40% in the Midwest
Kitchen staff and servers were lower, at 28%
Bar staff and managers seem much happier to stay put, averaging only around 25%
Keeping them around
Here are some tips and best practices on ways you hang on to what you got.
Talk to the employee who resigns. Do an "exit interview" when you can. Right, sometimes they just don't show up for work one day, but, when you can, encourage them to be honest about why they're leaving. That can help figure out trends: Is it pay? Is it a certain other employee? Is it you?
Show appreciation for your top employees. People like to be thanked, especially publicly. Cash incentives, special "top employee" buttons, contests among employees to achieve a goal – all these are ways to make employees feel that they are making a contribution, have a place in the company, and want to stick around.
Keep your pay competitive. It doesn't save you any money if low pay drives employees out the door and you have to spend time, effort and money to replace and train them. Do some research and make sure your pay is in line with your competition.
Be more flexible in allowing time off, arranging schedules. People burn out with too many work hours and can be stressed out when they don't get enough hours to work. Time off shouldn't be a "perk" and employees who need more work hours shouldn't have to beg. Try to accommodate both ends of the spectrum.
Find ways to promote from within. Have an employee eager to move up? Try to find time to be a mentor, provide some growth opportunities with greater responsibility or some training at a new position.
Have regular tasting sessions, gathering feedback from employees on your regular, and new, menu items. Everyone likes to be able to accurately describe the food to guests, to their friends, and it shows employees that you value them and their opinions.
Smile! Amazing how your employees will feel more connected to their jobs if you make them feel welcome, just like your restaurant patrons.
Retaining your best employees is a strong strategy for keeping your restaurant running at peak performance, from a quality, service, and profitability standpoint. It's worth the effort!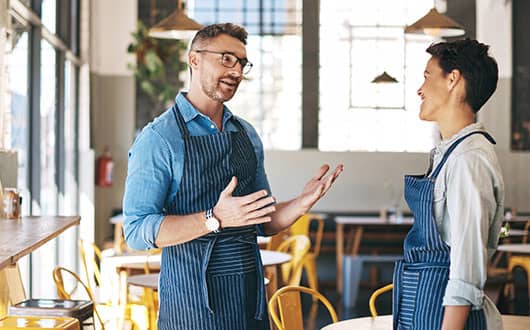 1 https://upserve.com/restaurant-insider/3-common-reasons-restaurant-employee-turnover/
2 https://blog.compdatasurveys.com/employee-turnover-trends-in-2017
3 Cornell University School of Hotel Administration, "The Costs of Employee Turnover: When the Devil Is in the Details," 2006
4 National Restaurant Association, Pocket Factbook, 2017
5 Pew Research Center, "Where teens are finding summer jobs: More foodservice, less retail," 2015