Eatertainment: Raising the Bar to Boost Traffic
Feb 28, 2023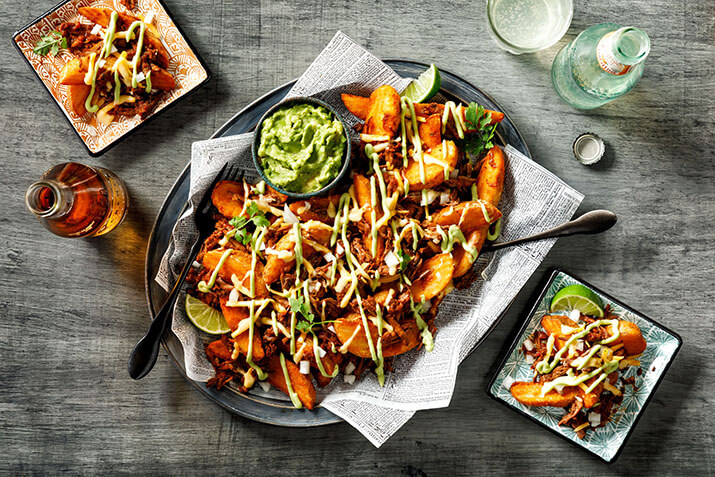 Eatertainment—the combination of dining and entertainment experiences—has become increasingly popular in restaurants in recent years. For operators, the reason is simple: rising menu prices and the ease of home delivery and takeout have made it more difficult to get customers off their couches and into restaurants.
With eatertainment, restaurants and other destinations are stepping up to create more memorable, Instagram-worthy dining experiences. The focus on entertainment, socialization and novelty differentiates as it delights. And the dining public is responding: 82% of consumers have visited an eatertainment venue.1
Eatertainment, from treetops to Topgolf
Eatertainment is not a new concept. Establishments have been leveraging the power of novelty in one form or another since at least the 1800s.
In 1848, Joseph Gueusquin opened Le Grand Robinson, a restaurant built in the branches of a tall chestnut tree in the suburbs of Paris, inspired by The Swiss Family Robinson. Its popularity quickly spawned a host of imitators. The concept went on to capture the public's imagination for more than a century, with the last treetop bar closing in 1976, more than 100 years after Guesuquin's restaurant opened.
More recently, Topgolf, a sports entertainment company, turned a struggling driving-range concept into an international success story by creating a multi-faceted entertainment destination that includes quality food.
The largest Topgolf venue, in Las Vegas, rises four floors, features two swimming pools with private cabanas and VIP sections, and combines the Topgolf experience with the city's penchant for upscale "Day Clubs" and pool parties.
In addition to the golfing experience, the Vegas location offers a communal "lawn" area with live music featuring nationally known bands, weekend DJs, the occasional yoga class, and games like cornhole. This dovetails nicely with the sensibilities of Gen Z: 27% want more games and entertainment options at restaurants.1
With five bars throughout the venue, all with full food service, many guests choose to dine while waiting for bays to become available. The wait can take up to two to three hours during busy weekends.
Eatertainment comes in many flavors
Offering games with food is just one type of eatertainment. There are numerous examples of unique dining experiences that have gained popularity in recent years that often fall into one of five categories:
Themed restaurants: Themed restaurants provide an immersive dining experience that transports guests to a different world. Examples include San Francisco's famous Tonga Room, which features a simulated tropical rainstorm, and the Jekyll & Hyde Club, which offers spooky decor and theatrical performances.
Cooking classes: Cooking classes are a popular eatertainment experience that allows guests to learn new culinary skills while enjoying a social and interactive experience. Many cooking classes are led by celebrity chefs or experienced instructors and can be themed around different cuisines or cooking techniques.
Dinner theater: Dinner theater combines food and beverage with a live performance, such as a play or musical. Guests can enjoy an entire evening of entertainment while dining on a multi-course meal.
Chef's table: A chef's table is a dining experience where guests are seated in close proximity to the kitchen and can interact with the chef while enjoying a special menu. This unique and intimate dining experience allows guests to learn more about the culinary process and enjoy personalized attention from the chef.
Game restaurants: Game restaurants combine food with interactive games and activities. Think Dave & Buster's, Punch Bowl Social, Pinstripes, and Chicken n Pickle, with offerings like bowling, arcade games, pickleball, video games, ping pong tables and more.
The importance of shareable menu items
Generation Z and younger Millennials are drawn to shareable food options. This is partly due to a desire for social and convivial dining experiences and partly because many are accustomed to making meals out of snacks and small bites. Variety, multiple textures and bold flavors are crucial elements of this trend.
To appeal to this demographic, shareable dishes should be exceptionally craveable while respecting the desire for additional vegan and gluten-free options.
Here are a few shareable recipes from the Simplot Culinary Team that work well in eatertainment concepts:
Roasted Birria Fries
Load up a plate of crispy crinkle cut wedge fries with succulent lamb birria, melted cheese and top the dish off with a house-made avocado crema.
View Recipe »
Mediterranean Collection
Perfect for any gathering or hungry crowd, this collection includes several traditional mezze appetizers, pita bread, olives, tomatoes, and dips that can be combined any-which-way. It's easy to assemble and it travels exceptionally well.
View Recipe »
Spicy Chicken Banh Mi Fries
A banh mi without a bun? That's right—load up a plate of crispy lattice fries with spicy roasted chicken and top with quick-pickled veggies. So good!
View Recipe »
Taking the dining experience to the next level
Here are five great examples of unconventional thinking that are paying off.
Dining out is about more than eating out
In the famously competitive world of foodservice, it pays to offer something different. How different? Spain's Disaster Café certainly piqued the imagination: a restaurant where diners experienced a simulated 7.8 earthquake during their meal and servers wore helmets. So did Opaque in Santa Monica, CA, where customers ate in complete darkness. Both are now closed.
The lesson?
An intriguing eatertainment concept may spur trial and social media fame, but novelty alone is not enough. The food and drinks have to deliver if there's any hope of attracting subsequent visits—the lifeblood of the industry.
Still, there's no question it takes more creativity to get customers to come out post-pandemic. So go ahead and create that one-of-a-kind experience. Just keep in mind that the line between genius and gimmick is often thin.
1 Datassential, 2022
2 Datassential, August 2022