Delicious on Arrival: Better Packaging for Delivery and Takeout
Jan 08, 2021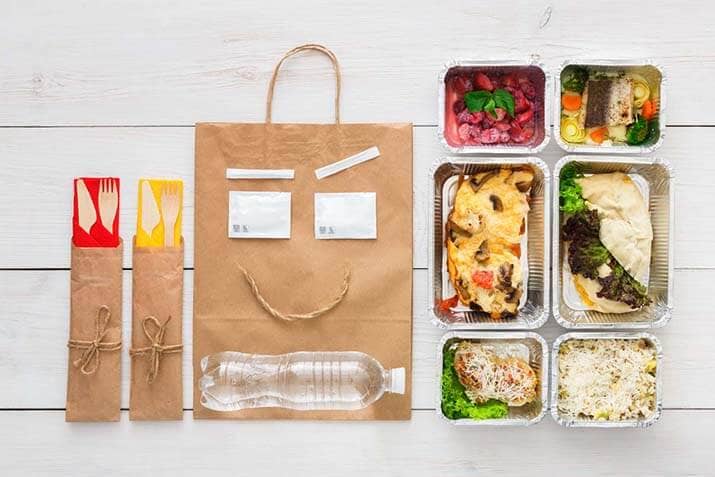 Finding the right packaging for your takeout and to-go business can be a daunting task. There are so many different options. Takeout and delivery is only trending up, so putting some thought and effort into how you package your food will become more and more important.
Research the different materials and associated costs
There are so many different materials on the market now, especially with the rise in delivery and desire for sustainability. It will be up to you to prioritize what you want and need out of the packaging you use. Consider these things:
• Cost: Styrofoam is really cheap and great at insulating food, but it's terrible for the environment. Paper and cardboard are cheaper options and still good insulators.
• Use: Unlined paper and cardboard products are generally cheaper and good insulators, but not great for saucy items like pastas.
• Insulation: Styrofoam and plastic are good insulators, but they also hold in steam. So they're not good for fried items like french fries or anything you want to keep crunchy and crispy.
• Sustainability: More and more consumers want eco-friendly containers, so this is an important consideration. Research the different kinds of compostable, biodegradable, and recyclable containers. Or you can get really creative, like Osha Thai in San Francisco. They prepared full chicken and rice meals, wrapping them in banana leaves and tying the packages with twine. This creative to-go packaging had the added bonus of attracting media attention for providing such an attractive and unique experience.
To help you narrow in on a material, here is a really great chart from Tundra Restaurant Supply breaking down the pros and cons of some of the most popular materials.
Tip: Using a combination of materials can also work well. Want to use biodegradable paper containers but you sell a lot of saucy pasta? Use aluminum foil sheets to line the bottom of the container. Nami Nori in New York had a special need to keep the nori in their sushi hand rolls from getting soggy, but they wanted to present their rolls in an appealing way. So they combined typical paper to-go containers with plastic sheets in this very interesting way.
Pay attention to safety
A survey conducted by US Foods in 2019 found that nearly 30% of third-party delivery drivers had snacked on an order they were delivering. Pre-COVID, this was already troubling to customers, but with the rise in COVID cases, it's more important than ever to use tamper-evident packaging. This can be as simple as sealing delivery bags with a stapler or a sticker. There are also different kinds of containers that have tamper-evident options. This may not be as much of an issue if you are a takeout-only establishment, but it is really important if your food will be handled by multiple people before it gets to your customer.
Keep up the quality
About 40% of delivery customers have had problems with getting cold food or food that wasn't fresh. It's really hard to make food that will keep for 30 to 40 minutes, but there are a few tricks to keeping items fresh for customers.
• SOS (sauce on the side). Keep different components of dishes separated out to prevent soggy buns, wilted greens, or stale chips. For example, if you're offering a salad, keep the dressing and croutons separated—or have dressing on the side as an option for customers to select. The Shawarmaji pop-up in Oakland did a great job finding packaging for their wraps that looked great and kept the ingredients separated, while remaining practical.
• Run some tests with different kinds of packaging by cooking some menu items and leaving them in different packaging for 30 to 40 minutes. See which ones hold best
Check out this chart from Tundra Restaurant Supply to help narrow down some options depending on the food items you offer.
Find creative ways to show your brand
The majority of your relationship with your customers is now virtual, so any point of contact should direct them back to you (rather than a third-party app) so that you can maintain that relationship and grow loyalty.
A great first step is to make sure your packaging is branded with your logo. You can go about this in a lot of ways, the simplest and cheapest of which is getting some stickers printed like Reem's California in the San Francisco Bay Area or getting a rubber stamp made. There are also companies that print branded to-go containers which look great. Beware that those cost a lot more and usually require a minimum order.
There are a lot of ways to grow brand identity beyond slapping your logo on things. Think about the core values of your business and how you communicate that through your packaging. For example:
• If your restaurant is focused on high-quality, fine foods, maybe you want to select packaging that shows off the food in a way that your team can still play with some plating techniques, such as these gourmet omakase boxes by Kissaki Omakase.
• Add instructions for reheating your meals. After all, 1/3 of your takeout and delivery customers reheat food after its been delivered and instructions from you will show you care about the quality of their experience.
• Include a handwritten message on the bag thanking your customers for their business.
• Have a postcard with social media information and any upcoming specials.
• Consider your customer and their packaging needs. For busy families that don't want to do dishes, consider packaging that's easy to use in place of plates, like these boxes from Bento Picnic.
Hospitality is more important than ever
Just because customers aren't sitting in your restaurant as much doesn't mean you can't still extend hospitality. As a matter of fact, it's even more important to delight customers in different ways so that they become loyal, repeat customers. Spend the extra time, invest some extra funds, and put in the effort to strategize and create a unique experience with your packaging.