Crafting Crave-Worthy Salads: Tips for Building Hearty Salads in Your Restaurant
Mar 03, 2023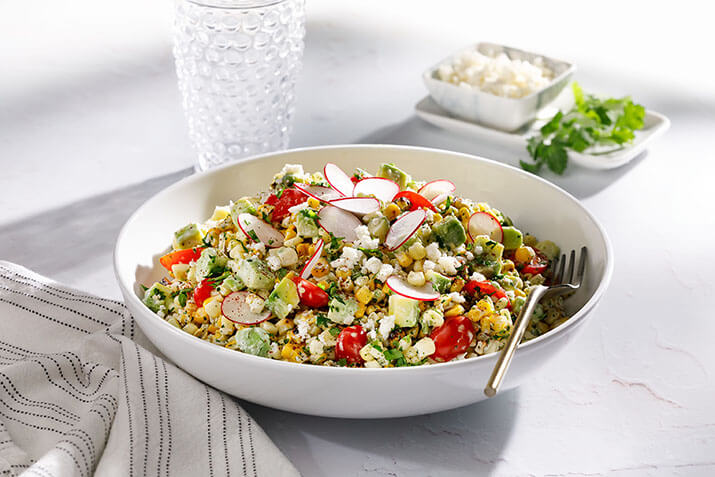 While customers crave nutritious, healthy salad options to support lifestyle and fitness goals, it can be challenging to stick to these ideals when appetites kick in. The "salads that satisfy" approach is a great way to solidify a devoted customer base and positively impact your bottom line. With little-to-no cooking required, minimal preparation time, and inexpensive ingredients you can purchase in bulk, hearty salads can effectively grow those razor-thin restaurant margins.
We've covered the basics of how to build salads that surprise and delight.
Think outside the lettuce box
Who said salads had to be all green? The green gelatinous salads of previous generations aside, consider assembling a base other than leafy greens while building your bowls. Take extra roasted veggies, filling grains such as farro or quinoa, or heartier green vegetables like raw cabbage or chopped zucchini to bolster bowls and add extra fiber and crunch.
Don't forget the superfoods
Peppering in superfoods such as avocado, kale, and turmeric increases the nutrient density of a dish and visual appeal when ordering. Many of these known superfoods have devoted followers from those looking to adhere to a healthy food regimen. They can quickly become a favorite lunch or dinner item for customers looking for an everyday, delicious meal they know will fill them up and support their food goals.
Fats are phat
A crucial component of any salad, fats help with nutrient absorption from greens and also slow down digestion, keeping customers feeling full longer. With so many ingredient options for adding fats, creating salads with various flavor profiles ensures your menu stays fresh and varied all year. Consider different types of fatty fish, nuts, seeds, oils, or avocados as a starting point.
Pickle it up
38% of consumers like or love pickled items, and it's hard to blame them.1 The versatility and tang of this ingredient are an excellent topping to almost any salad, adding depth and flavor to dishes. With the added benefit of being a low-cost menu item that can easily use extra produce and scraps in the kitchen, pickles and fermented products are an excellent choice for padding your menu without adding another food expense.
Don't forget the protein
Whether someone is vegan, vegetarian, pescatarian, or paleo, high-protein ingredients are the most effective at bulking up any salad and filling your customers for a more prolonged period. Regardless of what diet restriction someone follows, your salads must boast loads of protein to entice hungry humans. Consider adding lentils, beans, hard-boiled eggs, fish, grilled chicken, or meat to ensure bowls that leave customers satiated and returning for more.
Remember: when building salads for hungry humans, fiber, protein, and fat are your friends. Use any combination of ingredients heavy in these three things, and you're well on your way to a salad that satisfies and is guaranteed to fill up even the most ravenous among us. A few of our favorites that are equally easy to pull together and delicious thanks to Simplot's ingredients are:
Middle Eastern Salad
This generous salad will surprise and delight your customers with ingredients they can't find just anywhere. Riced cauliflower is topped with braised lamb, lemon labneh, and roasted sweet potatoes before finishing with crispy onions, Harissa sauce, pomegranate seeds, and fresh mint. It's a flavor explosion of filling ingredients they'll be coming back for again and again.
View Recipe »
Summer Potato and Peach Salad
Throw out any boring misconception about a potato salad you have. This seemingly light summer salad offers substance and freshness at the same time. Roasted baby potatoes and peaches are topped with creamy burrata cheese and iced blueberry croutons. Doused with a house-made green onion-jalapeño sauce, this would be even more delicious with a juicy grilled steak.
View Recipe »
Modern Chef's Salad
We've taken the classic chef's salad and added a bit of zest. Loaded with the crunch of broccoli pieces, squeaky cheese curds, pickled peppers, and onions, it's a textural wonderland. Topped off with bacon and a soft-boiled egg, let customers add their own protein choice for even more personalization.
View Recipe »
Street Corn and Avocado Salad
This is a perfect example of building a hearty salad with no hint of lettuce or kale. Roasted corn forms the base, bringing all the favorite Mexican street food flavors into one bowl. The salad is heaped with fresh jalapeño, avocado, grape tomatoes, and queso fresco.
View Recipe »
For even more inspiration, pop over to one of our favorite TikTok innovators, The Food Renegades,
or follow the hashtag #hungryladysalads when you hit that chef-like writer's block for menu planning.
1 Datassential, 2022