Breakfast Is Back: Are You Ready?
Feb 16, 2021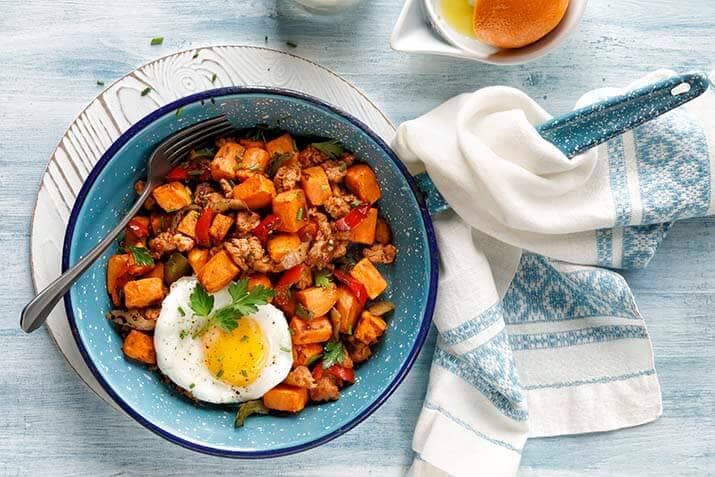 In what has been a historically tough year for restaurants, breakfast and brunch took the biggest hit with 12% reduction in sales in just quick-service restaurants.1 Establishments without drive-thrus have likely been hit even harder because of the reduction in commuting to workplaces. The result? Breakfast and brunch is being cooked at home these days.
But moving into the spring and summer, that's expected to change. Over the last several months more people are ordering breakfast, representing 9% of take-away dining, up from 6% when the pandemic started.2 With warmer weather and vaccines on the way, breakfast and brunch will be coming back hard.
It's important for you to finesse your current take-out breakfast options as well as prepare for the breakfast comeback.
Find out how your current customers are eating their morning meal
Your current customers have had to figure out how to make breakfast for themselves and their families, and chances are they're getting tired of doing it. Send out a survey via social media, Survey Monkey, Google Forms, or a newsletter to find out where the pain points are. This will help you strategize and plan for a new breakfast program.
For example, maybe your customers are cooking at home and want to continue to provide homemade breakfasts with high quality ingredients for their families, but they're tired of finding new recipes or going shopping and buying a bunch of ingredients. You can start offering items that they can take home and freeze, like breakfast burritos. Other ideas might be to start creating breakfast pantry items, like homemade granola, or package up a hash mix that they can reheat at home for a quick weekend brunch (like this recipe for Sweet Potato Hash with Hot Italian Sausage, pictured above).
Grab n' Go will be important
54% of consumers prefer to order breakfast via the drive-thru,3 so having quick and easy pick-up is going to be essential. Pre-pandemic, fast food chains like Wendy's, Burger King and Starbucks had been following the rise of consumer interest in breakfast and developed new programs to cater to that. However, with the pandemic and reduced commuting, those programs had to be scaled back. Those companies are expecting a quick resurgence as people head back to work.
Though this news could be discouraging, as the big players in fast food have put resources into capturing the morning commuter market, there is a bright spot. Sixty-eight percent of consumers are more likely to order breakfast that is made from scratch.3
So start developing a program (if you don't have one already) with made-from-scratch, grab n' go options like the Simplot Gruyere, Ancient Grains, and Kale Egg Bites. If you can implement a new curbside pickup or drive-thru option, that will help you stand out from the competition.
Family meal brunch options
Fully 62% of consumers say they are interested in family-friendly breakfast or brunch boxes.2 Creating family meal boxes that are tasty and exciting offers a way for family to gather in the kitchen and cook without it being too complicated. This will continue appeal to consumer even after dine-in brunch is permitted again. This recipe for Harissa Potato Breakfast Tacos would make a great box with some fun toppings and sauces that each member of the family can use to customize their tacos.
Mother's Day will be big
Mother's Day is one of the most profitable days of the year, with a lot of the revenue coming from brunch. It's hard to say exactly what Mother's Day brunch will look like this year as restrictions change and vaccines are more widely available, but it's safe to say that regardless this will be an important day for your breakfast program.
Whether in-person dining is allowed or not, people will be looking for ways to celebrate with mom. According to a recent survey from US Foods, 53% of moms want delivery or takeout from a favorite restaurant and 19% want breakfast or brunch. And with 72% of moms voting they'd rather have breakfast in bed than at the table, a special breakfast-in-bed kit would be a smart addition to your takeout program.
Get creative with offerings
There are a few breakfast items that have soared in popularity over the last four years:
Avocado Toast +300+%
Acai Bowl +156%
Brunch Burger +106%
Breakfast Bowl +98%
All of these options are really conducive to customization so you can get creative with toppings and ingredients. Take advantage of their popularity and develop something exciting that people can't live without. Or come up with something new and fun altogether, like this refreshing Cold Mango Coffee.
Rise and shine
Going out to breakfast may seem like wishful thinking after so many months of pandemic restrictions. But with a little luck, one of the most profitable dayparts may be back in play soon. Now is the time to think about how you're going to approach this important opportunity. Your customers will be glad you did!
1 The NPD Group, 2020
2 Datassential, 2020
3 Technomic Breakfast Trend Report, 2019